3D Printing and Logo Guide
From EG1004 Lab Manual
3D Printing Extra Credit
The 3D printing extra credit is given for designing your company logo in any CAD (Computer Aided Design) software of your choice and having it approved for printing by a 3D printing specialist. Your logo will then be printed on a first come first served basis (If EG cannot print your design due to time or material constraints you will not be penalized).
Specifications
Logos:
Must be 2 colors
Maximum material usage 15 grams total
Logo's must be integrated with you project is some way

Pin worn during final presentation
Used as a part of your SLS model
Attached to robot during commissioning video

Add provided Lego technic beam model to your part to allow it to be connected to your robot (in important downloads)

Must be original content
Initial submission by Milestone 2
Final Submission by Milestone 3
Course Modificaiton:
Must complete logo first
Maximum 1 Color

Maximum print size (11.2 x 6.0 x 6.1in)
Object may not be touched after the robot has started to run
Original Design

Must be different from other groups' submissions
Will be judged by 3D printing TA's and Professors

Can be .thing or .stl extension
Software
To design your logo you will need any CAD software as well as Makerbot Desktop Software. There are many options for software that can be used, the only necessary feature is that the software can export files as an STL (stereo lithography) extension. Some examples of these pieces of software are:
Autodesk Inventor – Free student edition
123D – Free (Online)
TinkerCAD – Free (Online)
Blender – Free (Open source)
OpenSCAD – Free (Open source)
Solidworks – Available in NYU computer labs
Rhinoceros – Free for mac
To make a 2 color design you will need to save your logo in two separate STL files (one for each color). The two files are then imported into Makerbot Desktop aligned and the extruders are selected (For more info see the Makerbot Desktop Guide).
Design Considerations
Make a flat bottom: A large flat bottom increases the adhesion between the build platform and the part, keeping the part from shifting around during a print.

Keep overhangs close to 45 degrees: Each layer of a 3D print needs to be supported from below. You can avoid adding additional supports to a print if all the overhanging parts are at no more than a 45 degree angle from vertical.

Avoid thin walls and thin columns: Thin walls and column often do not come out well. The thickness of a thin wall should be a multiple of 0.35mm. Thin columns will usually come out distorted because they melt under the nozzle.
Submission
Submission of your logo or course modification will take place through the google form linked on the side bar of the EG website. To submit your file you will be required to upload your .thing file to your NYU drive and give us a share link. To get a share link, click share followed by "Get shareable link".
Before giving us the link you must also make sure to set the share permissions to allow anyone with the link to have access to the file. To do this select "More..." in share options then select "Anyone with the link".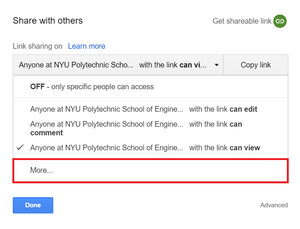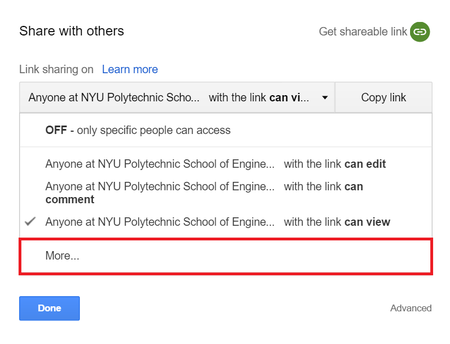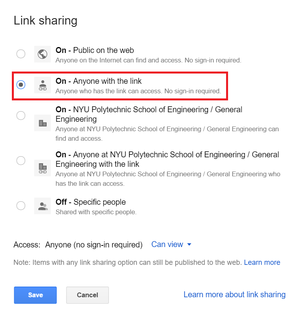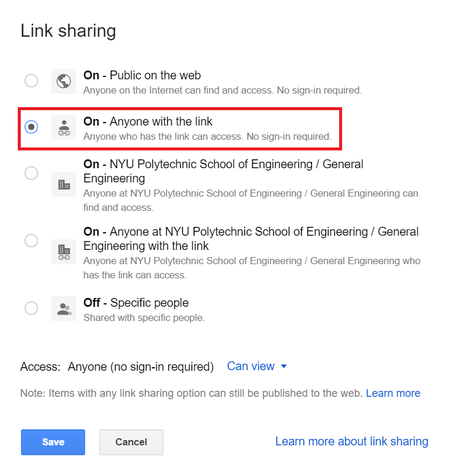 If your file is not shared correctly your logo will be denied without any feedback because we will not have access to the file.